August 25, 2006
Anybody can do Analytics!
Many times people will say "Analytics is only for a few really smart people". I think that's actually completely untrue, and is a function of job protection schemes by
some very smart stats people as well as the generally very bad user interfaces provided by most data analysis tools.
Let me use an example to prove my point. There's an awesome dataset out there of 65,000M records (yes, a few more than the 65,000 rows possible to load into Excel) and probably some 20-30 columns of data. It has both numbers, text, and imagery associated with it, and has all kinds of smart algorithms, graphs, etc.
Not only this - it's used by many many people. Way more than any "statistics package" - and by literally any type of user.
And not only this - they use it to create a competitive advantage against both their counterparty in high value transactions, but also to minimize the value of the middle man in complex negotiations
Ok enough of guessing - who am I talking about? Zillow of course! Great real estate site - if you haven't already, you must try it http://www.zillow.com. Literally arming anybody to do quite sophisticated analytics. And why does it work? Because of awesome user interface design and visualization - that allows anybody to use it. Not just to browse data, but to actually become the smarter party in a really important transcation - competing on analytics!
So please, forget this silly argument about analytics being only for a few people. It's a pitiful excuse. Now think about if you had the tools to design/build Zillow-like experiences in minutes and hours rather than months and years? For anybody in your organization, real fast. Wouldn't that be game changing?
Share:
Posted by Christopher Ahlberg at 3:30 PM | Comments (0)
August 23, 2006
Best implementation of Spotfire?
Many times I get asked "who has the best implementation of Spotfire?" Obviously not a trivial question to answer, but I'd like to point to Toshiba who really has done an outstanding job. I heard a comment from one of our friends at Toshiba say "Spotfire is like air, we can't live without it". Their case study is a good read:
http://www.spotfire.com/spotfire_downloads/case_studies/toshiba.pdf?CFID=1663071&CFTOKEN=89929576
Now, what have they done right when it comes to analytics when so many other companies struggle with efficiently arming broad ranges of people with analytics? I think the trick is as simple as this: they take it seriously and has been willing to build a plan and apply human resources, not just software, to make it successful. If you want to create competitive advantage (in their case beating the other memory suppliers for example) you have to create a plan and execute on it. Many companies, Spotfire customers or not, forget that you have to be strategic about analytics to really create an impact.
If you are serious about analytics you can really set yourself up to crush your competition. If you're not you'll end up arming the statistics priesthood with lots of numbers, but little outcome.

Share:
Posted by Christopher Ahlberg at 9:45 PM
Structured and unstructured information
One of the trends in business intelligence that people talk about is how structured (numbers) and unstructured (text) data is coming together in business intelligence - and make a big deal out of this.
It's funny how this is such a big deal, because it shouldn't be. It really just is a function of the legacy BI systems out there today relying on legacy OLAP structures that doesn't handle anything but pre-configured dimensional
structures very well (hmmm that sounded technical - just think "complicated structures that lock you in").
We've had a lot of fun attacking problems dealing with both text and numbers - for example in Intelligence applications. We're proud of our relationship
with In-Q-Tel (http://www.in-q-tel.org) - you should check out the presentation done at our user conference which paints a great picture of how visualization, text, and numbers come together. Without really thinking about text vs. data - you just browse.
Visit this page and click the Troy Pearsall presentation among the keynotes.
http://www.spotfire.com/events/userconference2004/

Share:
Posted by Christopher Ahlberg at 9:45 PM | Comments (0)
August 10, 2006
Beauty matters.
Edward Tufte in his book "The Visual Display of Quantitative Information" talks about Signal to Noise ratio in information visualization. Very powerful way of thinking about information design, removing "chart junk" in favor of clear, to the point, displays. John Snow's map of a cholera epidemic in London is a nice example:
Now - I could argue that the master of the really "to the point" visualizations is not Edward Tufte but really Bill Cleveland in for example his "Visualizing Data"
book. Very powerful ways of showing information, perhaps with a slight statistical bent.
However I think you can actually argue that his approach becomes so ultra clean / stripped down that it close to losing its compelling nature. It's like the difference between a between a Philippe Starck chair and a cheap simple chair bought at Jordan's furniture. Both might be simple and clean, but only one is beautiful.
And beauty matters. Because we want the way we present information to be expressive, exciting, enticing, and engaging. Bringing these two worlds of exactness and excitement is not easy - but it can be done.
Share:
Posted by Christopher Ahlberg at 4:30 PM | Comments (0)
Analytics or Visualization?
People ask me whether Spotfire is about analytics or visualization? I'd like to think, putting it very simply, that interactive(!) visualization allows us to put a very user friendly experience on top of analytics that otherwise would stay with the statistics priesthood.
We have implementations litterally reaching thousands of people affecting their everyday business decision - and the interactive, visual interface is what makes that possible.
Share:
Posted by Christopher Ahlberg at 7:30 AM | Comments (0)
August 9, 2006
Data models vs. Data visualization
Whereas it's probably pretty futile to argue whether data models is more important than data visualization or the other way around, I'm surprised by Andy Hayler's way of talking about "flashy tools" here.
http://andyonenterprisesoftware.com/2006/08/170/
In reality great data visualization will drive needs for clever data models, and awesome data models will nicely feed great visualization.
Share:
Posted by Christopher Ahlberg at 10:15 AM | Comments (0)
August 8, 2006
Getting under the skin of visualization
If you're interested in how to present information well you definitely need to look at what Stephen Few is doing. Few people are taking it as seriously as him, and in a great way balancing analytical thoughtfulness and beauty of design.
http://www.b-eye-network.com/view/3224?jsessionid=3db6e57637cd78b94d19ec44fe1666ca
Share:
Posted by Christopher Ahlberg at 3:45 PM | Comments (0)
Conversation with Eric Mattson
Had a lot of fun today meeting up with Eric Mattson - US marketing guy with a background in analytics - in Stockholm, Sweden.
Listen to our conversation here - and check out Eric's blog - he's doing a nice job with capturing insights from a whole range of marketing professionals.
http://www.marketingmonger.com/2006/08/marketingmonger_podcast_69_christopher_ahlberg_of_spotfire.htm
Share:
Posted by Christopher Ahlberg at 12:30 PM | Comments (0)
August 7, 2006
Feel the need for speed?
I'm a visual interface guy. Has pretty much always been. Still amazed that the world is stuck with textual interfaces to data. Even Google is still very textual - type in any question to the search engine and you get 123 million hits. And by the way, here are the first 10. Thank you very much.
Now though, what's fantastic about Google is the speed. The punishment for error is very low. Don't like the answer you find? Just reformulate, hit return, and tadaa - here's a new set of answers. Very fast.
How about if we could have interfaces that was both visual and fast?
Share:
Posted by Christopher Ahlberg at 3:30 AM | Comments (0)
August 1, 2006
Asking follow-up questions to a guy who died in 1870...
We all love the work by Charles Minard (http://en.wikipedia.org/wiki/Charles_Minard) who produced the wonderful image of Napoleon's infamous 1812 march on Moscow. http://www.edwardtufte.com/tufte/minard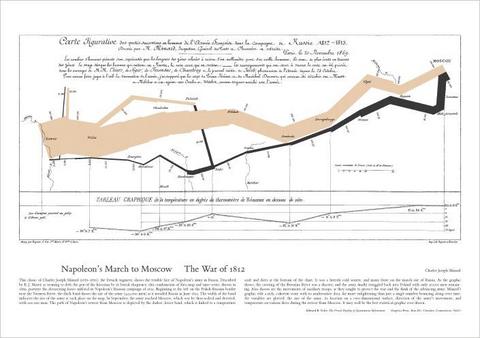 Now, as great as it is - capturing perhaps 6 dimensions in a high signal/noise ratio - have you ever wanted to ask a follow-up question to a static graph like this? Like "how much food was left in Moscow when Napoleon arrived"? Or "how many soldiers did the Russians have?"
If you think about it - isn't that what we're forced to do every day in business? It's a bit like speaking to a guy who died in 1870. Please wait for 2 weeks while we update the OLAP cube...
Shouldn't the world in 2006 be a bit more interactive and dynamic?
Share:
Posted by at 4:00 PM | Comments (0)
It's the right people that matters
In this Spotfire blog I hope to talk to you directly about how we can together change the world of data into a world of interactive and fun(!) graphics - and it's obviously a new effort, and one that only reaches a small group so far.
Therefore it was encouraging to see Seth Godin's comment below that it's not the size of the group reading your blog that matters, but rather that the right people read it (btw - check out Seth's blog - awesome stuff) - and accordingly - glad to see you here!
http://sethgodin.typepad.com/seths_blog/2006/08/microbusiness_b.html
Share:
Posted by at 3:45 PM | Comments (3)